The world's first water bike that replicates the cycling experience on water.
Using the same technology as America's Cup sailboats this Hydrofoil eBike opens up a whole new cycling frontier. Suitable for a wide range of fitness levels, riders can explore ocean coastlines, train along waterways, or cruise lakeside with friends and family.
Redefine Your Aqua Adventure
Experience breathtaking moments as you glide across the water. Feel the sensation of flying. One of the fastest-growing trends in outdoor recreation, eFoiling has redefined the future of modern water sports.
Powered by a robust propulsion system, Waydoo Flyer ONE gives you the ultimate water experience. You can ride anytime and anywhere on oceans, lakes, and rivers.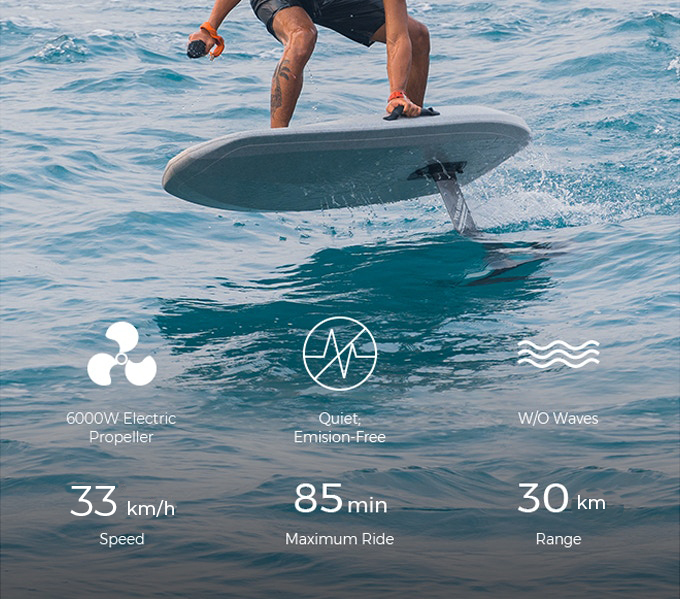 Premium
For
Professionals
Crafted from superior quality materials to offer an outstanding powerful performance. Waydoo Flyer exceeds all expectations, taking you on an unforgettable adventure.
Ride Relentlessly
After a full 2-hour battery charge, the Waydoo Flyer offers a long-lasting ride for up to 120 minutes, giving you the freedom to explore without limits.
Experience The Thrill

Break barriers and experience thrills with the utmost flying experience soaring at maximum speed of up to 28mph provided by a robust 7500W motor.
Flying with Inner Peace
Immerse yourself in nature
the way it should be
Levitating above the water is unforgettable and precious.
WaveShark Foil is paired with a capacity of 2.6kWh which guarantees the longest ride time up to 180* minutes in the market.
Search no more, the NEXT foil is here.

Personal Advice
We help you to find your dream configuration from the different variants.
Test drive in your desired location
We come to you! Arrange a test drive at your location.

Delivery and instruction
Upon request, we will bring your board to you personally and help you with your initial start-up.
Unique service
In the event of technical problems, we will pick up your board from you and bring it back to you within 48 hours.