Fly higher, faster,
further, longer.
These innovative features set Fliteboard apart.
Series 2 Technical Changes >
Get in sync with Fliteboard
The Virtual Gear System is just one of many features that makes Flite Controller the world's smartest eFoil controller.
Fly higher and turn harder with more stability. The ultimate electric hydrofoil design.
The smallest motor with the best performance.
PARAMETRICALLY DESIGNED WINGS
We created the first wing designed specifically for eFoiling. Then we made 13 more.
Our patented plug 'n play system avoids data cables. No electronics in the board means less fuss.
Lightbar brings Fliteboard to life with an LED light array.
World's most advanced portable marine battery
Not all batteries are the same.To fly faster, further and longer, you need the right power.
Flite App delivers new features with over the air updates. Flite track lets you visualise, replay and share rides.
Better design
= better perfomance
Details matter. Continual refinement is our obsession.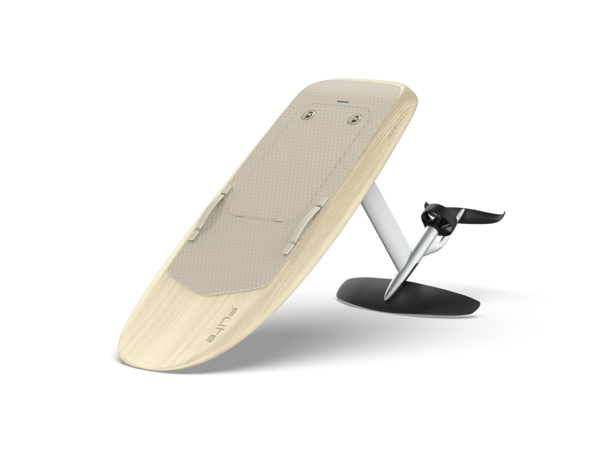 Fliteboard
— 5'8″ (173cm) 100 litres
— Bestseller
— Versatile
— Early planing
All riders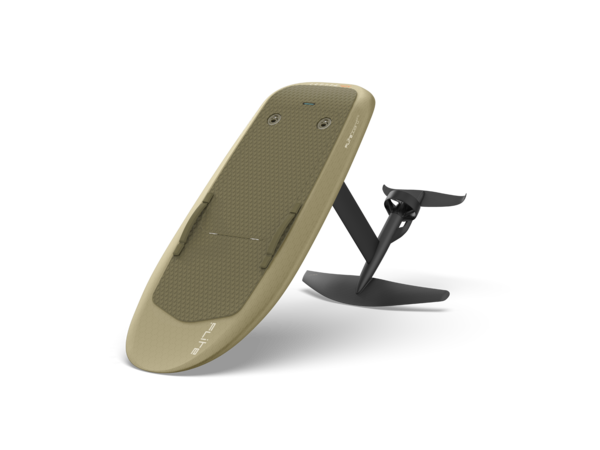 PRO
— 5'0″ (153cm) 67 litres
— Reduced swing weight
— Enthusiasts choice
— Moderate planing
Confident starters to experts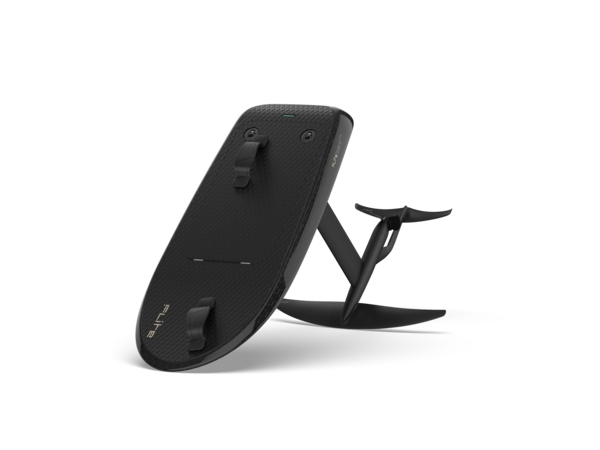 ULTRA
— 4'2″ (127cm) 54 litres
— World's smallest
— Optional footstraps
— Late planing
Expert riders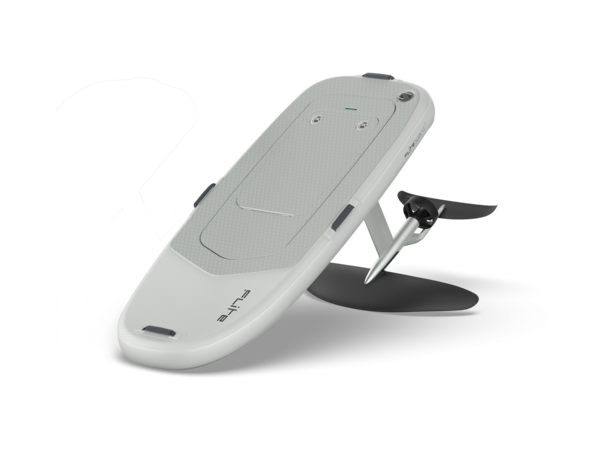 AIR
— 6'0″ (183cm) 150 litres
— Rugged inflatable
— Buoyant & stable
— Beginner friendly
Fliteschools, yachts & resorts
FLITE CONTROLLER
Your ultimate co-pilot
Flite Controller is an award winning ergonomic designed waterproof handheld remote that provides intuitive control and real-time performance information to the rider.
Smart and connected
Bluetooth connectivity with integrated GPS, dual IMU (accelerometer) and sophisticated ride telemetry.
Trip computer
Monitors (and predicts) battery consumption, ride time and distance, displays max speed, power usage and more.
Cruise Control
(Patented) Virtual Gears let you balancing the foil and not the trigger – to make learning easy and fun. Precise trigger control is available for advanced riders.
Magnetic charging
No plugs to connect, just snap on the charging magnet.
High contrast data display
Easy to read in bright sunlight, the high contrast display presents a wide range of information at the touch of a button.
Easy to grasp
Flite Controller comes with a floating wrist strap so you'll never lose it, and be free to use both hands when carrying your board.
UNIBODY FUSELAGE
What's so special about the unibody fuselage?
It's kind of a big deal. Integrating the foil and motor (instead of clamping it to the mast) results in the most balanced, responsive and efficient electric hydrofoil in the market. This means advanced riders can turn harder, explore further, ride faster, or have the ultimate pitch control on a wave face. It also allows beginners to learn more easily.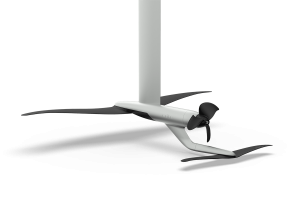 Perfect balance
Motor thrust inline with the main wing aligns forces to create better balance. Just like a mid engine car.
Smart mast
We use aircraft grade aluminium not just for it's strength, but it also functions as a heatsink to cool the motor (so we don't require cooling tubes). It works so well, we patented it.
Ride higher
Positioning the motor at the base of the hydrofoil lets you ride higher. The propeller stays under the water, where it should be. Two mast options let you choose your ride height.
Efficient
The motor postion, small diameter motor and gearbox provode maximum efficiency for maximum ride time.
Turn harder
The motor position also allows you to turn harder without breaching the motor.
World's fastest
When you're riding close to 60km/h inches above the water you want to make darn sure you're on the best performing eFoil available.
Art and science
Our Unibody Fuselage design is highly awarded and on display in the design museum in Essen, Germany. But form follows function; you wont find a better ride.
Reliable gearbox 
We didn't use any gearbox – it's Neugart, developed in Germany for Fliteboard for unmatched torque output. It's never failed on us. So it won't fail on you.
Machined to perfection
Each fuselage is machined to perfection from a single block of aluminium. It's a 15 hour process. No one said creating the world's best eFoil would be easy.
Reinforced propeller
We use a lightweight fibre reinforced propeller for less moving mass, better safety, balance and no vibration.
60mm motor
We use the smallest diameter motor on the market for greater hydrodynamic efficiency.
Customisable
Customise your eFoil propulsion system with different propellers, propeller guards, wings and shims. 
Parametrically Designed Wings
Designed by experts
Developed by qualified Naval Architects with world leading hydrodynamic and aeronautical design experience.
Rider tested
Ridden, tested and tuned by world leading watersports professionals, sailors (and commercial Fliteschools).
Parametrically designed
Developed using complex computer models similar to those used by America's Cup teams.
Beginner to advanced
Stability for beginners, radical response for waves, streamlined efficiency for range, low drag for speed.
Multi section design
Each wing utilises a number of refined sections to achieve precise performance characteristics.
Carbon construction
Sophisticated construction layup and materials for strength, stiffness, durability and minimal weight.
FLITEBOX
Plug and play simplicity
Our Flitebox system is manufactured from hard anodised aluminium and complete with finned heatsink for optimised cooling it avoids the need for complex water cooling tubes found on other systems. Also inside Flitebox is a powerful onboard computer that coordinates data from multiple sources for an optimised rider experience.
LIGHTBAR
It's an eFoil not an eBoard
We've taken all electronics out of the board. So there's less to go wrong. And less to maintain.
We also made the Flitebox even smarter with a lightbar for instant communication to the rider.
FLITECELL
Flitecell excells
Premium quality cells, designed for high discharge combined with our world class Battery Management System keep you going. And going.
Flitecell Sport
— 60+ min run time
— 30Ah / 1.65KWh capacity
— 11kg / 19.3 lbs
Flitecell Explore
— 90+ min run time
— 40Ah / 2.1KWh capacity.
— 14kg / 30.6 lbs
FLITE APP
'Appy Days
We recommend using Flite App to ensure your board and controller always have the latest software to deliver the best performance.
Updated Features
Software updates include new features and performance improvements
Diagnostic Reports
Easily send diagnostic information to Fliteboard
Performance Statistics
Track your ride distances, speed, roll, pitch, power and battery stats
Help Documentation
Quickly access our Troubleshooting Guide and Knowledge Base
GPS Flitetrack
Visualise, replay and share rides
MATERIALS AND FINISHES
The most nuanced elements have been refined, from improving the comfort and traction of our deck grips to updating the Flitecontroller circuitry for optimum low-power management. Details you might not notice, but will certainly appreciate.
We removed all electronics from the Fliteboard. This makes it maintenance free, simpler and easier servicing, improves corrosion resistance and reduces weight.
The Ultra is a 4'2" pocket rocket for advanced riders only (54 litres). Built on the core technologies that set Fliteboard apart, it's smaller, lighter and would leave other eFoils in it's wake (if it left any wake). Includes leash plug and optional footstraps.
We increased grip performance, designed lighter weight custom latches and colour coordinated it all, because we're particular that way. After all, 'good enough', is not good enough.
We optimised the wireless communication from Flitebox to allow the RF signal to travel through the board (patent pending) to ensure improved connectivity.
We've introduced new colours (Flite Green, Silver, Pebble and Dark Green) as well as a high gloss finish to the carbon Innegra paired with a contrasting upper matte finish.
By reducing the length of the inflatable AIR by 15cm, this makes it easier to ride (reduced swing weight and less affected by wind) while still maintaining buoyancy.
Integrated lightbar displays through the board providing detailed system communication to the rider (on and off the water).
This allows for better positional accuracy and improved metrics.
We improved the hydrodynamics of our tail fin by reducing it's weight, and refining the design to minimise drag.
Reduced wires and replaced with wireless communications.
Less tools required to quickly and easily add/remove the prop.
Increased cell spacing for better thermal management and thermal runaway resistance. New lid sealing system and gaskets.
Software improvements keep battery at safe optimum levels.
New more robust, lighter weight injection moulded battery case for increased protection and reduce the potential for corrosion.
We're using high discharge cells to improve performance, and extend ride times.
Refined internal circuitry for better low power management.
Refined charging pins and improved charger.
Improved arming methodology for safety.
Stronger wireless connection to eFoil established.
Race 700 The name says it all. If fast carves and top speed is your thing, this 50km/h wing is for you. Performs best in Pro Mode with the prop duct removed.
Flow 1300 The ultimate wing for powered off wave gliding with our True Glide prop. Flow 1300 takes off early and glides, and glides. Despite it's large size (1m span) it's agile and responsive in turns.
Flow 1100 The most versatile Flow wing. Large enough for wave glides and high turns at slow speeds, small enough to push fast.
Flow 900 Fastest surf wing for bigger waves and high speeds. Carve hard in flat water with a very loose and responsive feel.
Flow S 1300 This wing lets you ride slow and throw your Fliteboard around in wild turns, and catch waves.
Flow S 1100 This super-snappy wing is at a size that allows slow speed riding, but still with the ability to push hard.
Flow S 900 A wild wing that is the loosest of them all. For the most responsive ride possible at medium to fast speeds, try the Flow S 900.
Cruiser 1800 Our largest and most stable wing used at Fliteschools around the world. Suits beginners, heavier riders and those wanting a more docile ride. Early take-off and slow to medium cruising.
500 stabiliser – suitable for schools and new foilers
Flow 250 stabiliser – matched for the surf wings
Race 200 stabiliser – matched for our race wings
All new wing bags for all wings and stabilisers.
The True Glide prop allows you to ride waves with the motor turned off.
Revised app with functionality for Series 1 and 2, including Android.